Brief Description and Learning Objectives:
The modern age is also characterized as the age of "Big Data" due to the unprecedented scale of data produced daily and the needs of data analysis to extract valuable knowledge. Recent estimates indicate that the amount of data generated every two days is equal to the amount of data generated from the beginning of humanity until 2003 (!).
Sources such as the World Wide Web, social networks, sensor networks, and the recent trend for open data are contributing to the dramatic increase in data. In addition, data are found in a variety of formats, often in the form of text, often containing noise, facts that make data analysis difficult.
This wealth of data is particularly important because it also leads to economic prosperity. Big data is projected to affect work, as hundreds of thousands of jobs are expected to be in demand for people with analytical skills and experience in data management. Also, it seems that the majority of companies have already invested or intend to invest in big data in the near future. It is obvious that the concept of big data presents new opportunities for economic growth, while their real potential is still difficult to assess.
Students in this specialization are expected to acquire significant skills in large-scale data management and analysis, namely:
To create "problems" concerning Big Data in structured, semi-structured or unstructured form,

Extract and format the required relevant data from various sources,

Select technologies to be used and tools / methods (statistics, etc.) for efficient data processing and analysis,

Apply data analysis and machine learning techniques to effectively identify trends, hidden or repetitive patterns, make predictions, and generally discover valuable knowledge,

Integrate MDA systems and technologies into traditional or real-time information systems.
Students will also gain hands-on experience with state-of-the-art data management tools and techniques, including NoSQL systems (such as MongoDB), Hadoop / MapReduce and Apache Spark.
Finally, through the study of the international bibliography, the current research achievements of the field and the diploma thesis that will be prepared, it will be possible for those students who wish to be properly prepared for the next cycle of postgraduate studies at the doctoral level.
SAS® Joint Certificate Program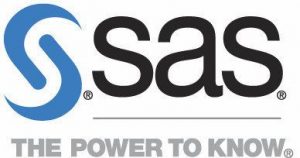 Analytics software installed at more than 83.000 business, government and university sites.
96 of the top 100 companies on the 2017 Fortune Global 500® are SAS customers.
Certificate Program Core Information
Students of the "Big Data and Analytics" area of study, have the possibility to participate in the Seminar that will be conducted in Greek in collaboration with SAS, and which will conclude to a Certificate entitled: "Data Management and Data Analytics using SAS".
The participation to the Certificate Program is optional and the participation fee is 500€.
The Certificate Program will be in total 39 hours long. The seminars will be conducted at the premises of the University of Piraeus and they will cover the following thematic areas:
Data Management for Relational and Non-Relational Databases.
Data Mining and Analysis or Machine Learning: Methods and Algorithms.
SAS Project.
Students that will participate in the Certificate Program will have the following additional benefits:
Free SAS software: SAS University Edition, SAS OnDemand for Academics, Teradata University Network.
Free materials: PowerPoint slides, course datasets for demonstrating the concepts being discussed, and practice exercises.