Advanced Information Systems
Brief Description and Learning Objectives:
The scientific field of this specialization covers a wide range of innovative approaches and technologies that meet the modern challenges and needs of all individual sectors of the socio-economic ecosystem. Considering that each sector (such as transport, health, logistics, smart cities and retail) integrates and uses as a key "tool" one or more information systems, the aim of this specialization is to provide all the necessary knowledge and skills so that graduates can analyze, design, implement and manage information systems.
The ever-enriching digital ecosystem is geared towards the development of modern mobile applications, cloud computing infrastructures, and ever-increasing devices / sensors that enable the provision of innovative products and applications. Thus, this specialization covers all phases of the process of developing advanced information systems, offering holistic knowledge from analysis and planning to realization and governance. Specifically:
Systems analysis and design: Focuses on the holistic approach to information systems analysis and service-oriented design taking into account state-of-the-art technological parameters and business processes under improvement and redesign.

Data management and analysis: Covers both data management in the context of information systems development, as well as the management and analysis of large volumes of data as required by modern applications and services.

Systems implementation: Focuses on modern implementation techniques using modern programming techniques, online services and mobile services and applications (mobile phones, smart homes, cars, etc.).

Provision of services: Utilizes, after the appropriate configuration, computing and storage cloud infrastructures in the context of the development of cloud information systems.

Systems governance: Covers scientific issues related to the management of the entire process from the selection, development, implementation, operation and maintenance of information systems.
Based on the above, the purpose of the specialization is the promotion of scientific knowledge and research that will enable graduates to be able to directly staff agencies that either use, or have available to third parties, or build information systems.
In addition, this specialization aims to prepare for postgraduate studies at a wide range of subjects – such as those covered by courses, laboratory sessions and work within the specialization curriculum.
SAS® Joint Certificate Program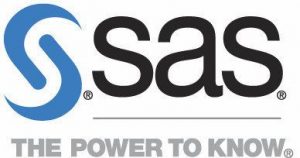 Analytics software installed at more than 83.000 business, government and university sites.
96 of the top 100 companies on the 2017 Fortune Global 500® are SAS customers.
Certificate Program Core Information
Students of the "Advanced Information Systems" area of study, have the possibility to participate in the Seminar that will be conducted in Greek in collaboration with SAS, and which will conclude to a Certificate entitled: "Data Management and Data Analytics using SAS".
The participation to the Certificate Program is optional and the participation fee is 500€.
The Certificate Program will be in total 39 hours long. The seminars will be conducted at the premises of the University of Piraeus and they will cover the following thematic areas:
Data Management for Relational and Non-Relational Databases.
Data Mining and Analysis or Machine Learning: Methods and Algorithms.
SAS Project.
Students that will participate in the Certificate Program will have the following additional benefits:
Free SAS software: SAS University Edition, SAS OnDemand for Academics, Teradata University Network.
Free materials: PowerPoint slides, course datasets for demonstrating the concepts being discussed, and practice exercises.