Advanced Information Systems
SAS® Joint Certificate Program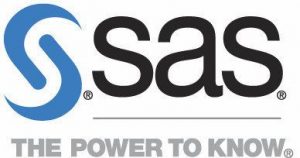 Analytics software installed at more than 83.000 business, government and university sites.
96 of the top 100 companies on the 2017 Fortune Global 500® are SAS customers.
Certificate Program Core Information
Students of the "Advanced Information Systems" area of study, have the possibility to participate in the Seminar that will be conducted in Greek in collaboration with SAS, and which will conclude to a Certificate entitled: "Data Management and Data Analytics using SAS".
The participation to the Certificate Program is optional and the participation fee is 500€.
The Certificate Program will be in total 39 hours long. The seminars will be conducted at the premises of the University of Piraeus and they will cover the following thematic areas:
Data Management for Relational and Non-Relational Databases.
Data Mining and Analysis or Machine Learning: Methods and Algorithms.
SAS Project.
Students that will participate in the Certificate Program will have the following additional benefits:
Free SAS software: SAS University Edition, SAS OnDemand for Academics, Teradata University Network.
Free materials: PowerPoint slides, course datasets for demonstrating the concepts being discussed, and practice exercises.